What Happened to the LIVINGbridge?
Community garden closed by property owners, citing issues with maintenance.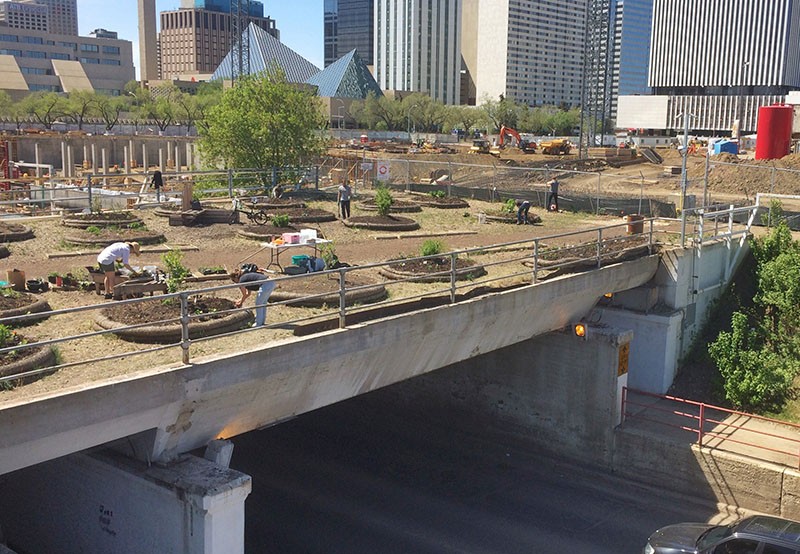 The LIVINGbridge did not bloom this summer.
Located at the old rail bridge 105 Avenue above 97 Street, the LIVINGbridge's lease came to an end in June. A group of volunteers dug up the plants, which were transplanted to other community gardens in the area.
"We were getting notices from Bylaw Enforcement to clean it up," says Mike Saunders, Vice-President, Development for Qualico Commercial. "It was supposed to be maintained, and from our sources such as the property manager, it wasn't being done."
Community member Rylan Kafara has serious concerns about the way such notices were handled. "Instead of Bylaw Enforcement fining Qualico for homeless community members utilizing the space, the City should have supported the company's efforts in grassroots community development," he says.
Kafara also emphasizes that the "critique I have of the City is the system, and certainly not with the people working hard within it on community development projects."
People like Jane Molstad, McCauley Revitalization Coordinator. "It is sad to see any garden close out and those who worked on it were given referrals to other locations where they can pick up on a garden bed and continue the joy of gardening in the area," she says.
"Revitalization helped the agencies by recycling all the living items after three years of planting on the living bridge," she says. "The shrubs and berry bushes were removed and given to other living gardens in McCauley. The orchard, the LRT garden and the Friendship Garden all benefitted from the shrubs being recycled as they seemed to need TLC.
Saunders says that Qualico is currently looking at alternatives, such as the bridge being paved over, but explains that such plans have not been confirmed. In a statement from Station Lands Ltd., a joint venture managed by Qualico, the company says:
"We have been working with a variety of stakeholders including various City of Edmonton departments and are in the process of updating our master plan for the area. These plans will include residential and commercial development and the activation of the 97th Street bridge. As an important transportation corridor for pedestrian and bicycle traffic, we are planning on incorporating the bridge in our master plan as a way to connect downtown to the north east of Edmonton."
Kafara would consider paving the bridge to be gentrification. "Paving over a bridge that connected Edmonton residents from all walks of life, grew plants, was a space for inclusive events, and a spot for people to stop moving for a second and take a break, is not a way to improve a community. It is, however, part of the process of displacing existing Edmonton residents who no longer belong in a gentrifying downtown. When it was unsuccessful in terms of limiting the visibility of homelessness, the LIVINGbridge was dismantled." he says.
"Whatever form the bridge now takes, I'm concerned it will no longer be as welcoming a space for people experiencing homelessness, and just another part of a sanitized downtown where our most precarious residents have to stay on the move and are no longer welcome."
However, Saunders insists that Qualico is willing to work with the community and to meet with representatives to discuss maintaining the landscaping on the bridge. "We are open to making it work as a community amenity, but everyone has to chip in and uphold their end of the bargain," he says.
"We're here to work with the community in a collaborative fashion. That's always been the way we operate."
A version of this article was published over the summer at our website: bmcnews.org. Want to stay in the loop when it comes to web features? Go to our website and sign up for our free e-newsletter to be delivered directly to you inbox.